Milwaukee begins its 2018 campaign today in San Diego, where for the first time ever the Brewers and Padres will face each other on Opening Day (both teams entered the MLB in 1969). From Ryan Braun starting at first base to the rumors that Milwaukee is signing Dan Jennings in the next few days, there's plenty to talk about as the 2018 season gets underway.
Mike Heller, host of The Mike Heller Show, detailed his thoughts about the upcoming season here:

As always, you can engage with us @thebig1070 or @thebig920 if you have thoughts on the Brewers' upcoming season!
1. Over or Under: The Milwaukee Brewers are set at 84.5 wins this season. What are you picking?
We asked our listeners this very question:
Mike Pilch, Update Anchor/Host: I'll take the under. There isn't really an explanation as to why. The Brewers are one of only a couple of teams who I don't know what to make of them. They could win between 78-90 games. Lots of question marks, and lots of players without a track record of having good/consistent season in back to back years. I'll play it safe and say 83-79.
Brad Berg, The Big 1070 Producer: I'm taking the under as the pitching rotation and bullpen are now both up in the air.
Jimmie Kaska, Cadott Little League Alum (#15): I see all the projections putting them at 85, 86, and saw a power ranking with the Brewers as high as 8th(!) in all of baseball. It feels weirdly optimistic to me. I'm going to be "regression to the mean" guy and feel like the Brewers are more .500 than Wild Card lock.
Pete Knutson, Eau Claire Sports Director: Under. I think the Brewers needed to go out and get one more arm. I think they'll be just under .500 this year.
Jon Arias, The Mike Heller Show/The Rundown Host: Over. I'll base it all on what's on paper right now. This team seems like a better team offensively and just as good with their pitching staff. Once Jimmy Nelson comes back that will be a boost. Over... but barely.
Mike Sullivan, Hall of Fame Broadcaster: Over, but barely.
Armen Saryan, The Drew Olson Show: I'll take the over but fairly reluctantly. Last year was a surprisingly good season and it wouldn't be unusual to see them take a step back again. Sort of like the 15-16 Bucks.
Drew Olson, The Drew Olson Show: Over. While I think there is a chance the Brewers' pitching could regress from last year's finish and injuries are always a factor, I think the additions of Cain and Yelich to the lineup will help offset some problems in other areas. Those two guys alone shore things up on offense and their outfield defense will definitely help with run prevention.
Brian Posick, Sports Director: I'll take the over on wins for the Brewers. With the offense they've assembled, I think 90 wins is not out of the question, however that's dependent on pitching, and right now I don't think they have the starting pitching necessary to win the NL Central.
Spenser Williams, The Big 920 Producer: I definitely think they hit the over... about 90 wins.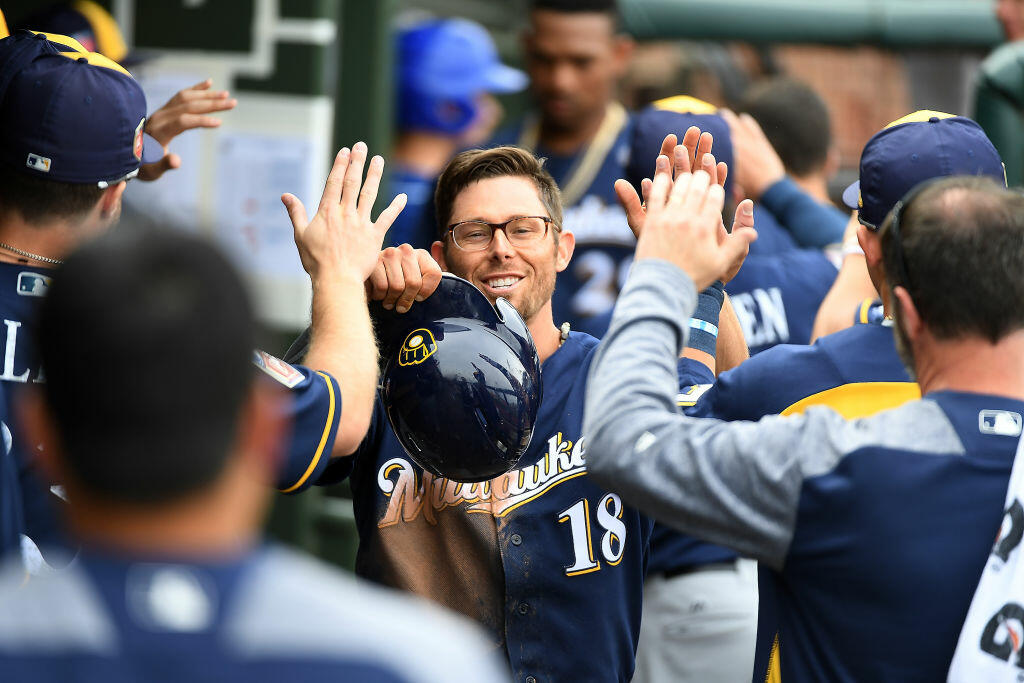 Photo: Getty Images
2. What would make 2018 a successful season for the Milwaukee Brewers?
Armen Saryan: Too many focus I think on the idea that you can only overachieve or underachieve. I think getting 84-86 wins again this year would be ACHIEVING and still a good year. To me it's not necessarily playoffs or bust.
Spenser Williams: Making the playoffs... playoffs or bust for me!
Drew Olson: A wild-card berth would be success. I've said it for years, you want your franchise to be at a point where a "bad" season is 81-81. Take a look at the Cardinals' win totals over the last 10 years, beginning in 2008: 86, 91, 86, 90, 88, 97, 90, 100, 86, 83. That's what I'm talking about.
Pete Knutson: They need to make the playoffs to be a success. The Cubs are too good and I think the Brewers may not even be the second best team in the division. If they surprise some people and sneak in the playoffs, that will be an accomplishment.
Brian Posick: Win 90 games and make the playoffs. That would be a very successful season in year 2 of their "rebuild".
Mike Pilch: Stay in the playoff race all season, get good/consistent years from players again so you have a better understanding of who they are. Making the playoffs in baseball is a six month dogfight. Just give yourself a chance.
Jimmie Kaska: I mean, making the playoffs is the easy answer, but if they miss out on it, it'll largely depend on how the team finishes. If they blow a lead in the division down the stretch, it'd be hard to call the season successful.
Jon Arias: Just have another winning record!
Brad Berg: One, no post-All-Star Game collapse, and two, a solid performance by the rotation.
Mike Sullivan: Get rid of Ryan Braun.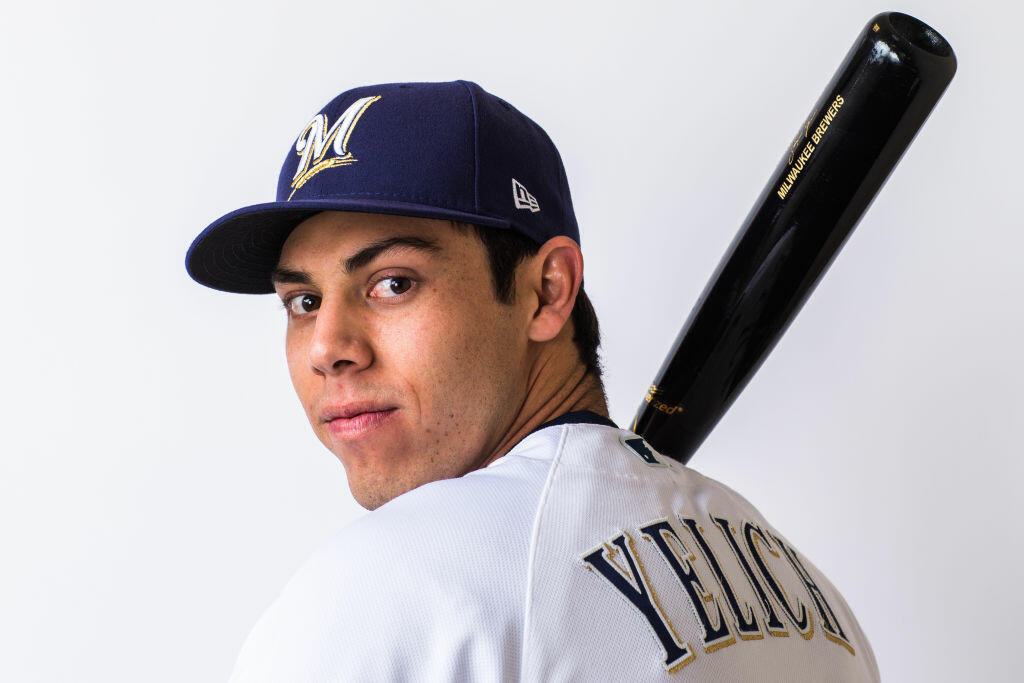 Photo: Getty Images
3. Which roster move will make the biggest impact on the Milwaukee Brewers' 2018 season?
Jon Arias: Christian Yelich. He's a young up and coming talent.
Mike Sullivan: Christian Yelich will be a star.
Spenser Williams: I really like the Yelich trade and think that he will have the biggest impact.
Pete Knutson: Lorenzo Cain has great championship experience and should still have some good years left. I think he was a big get.
Armen Saryan: Cain and Yelich obviously provide a massive boost to the top of the lineup and to the defense. Can it help the pitching?
Drew Olson: Not signing Jake Arrieta. I say that seriously. The Brewers did well by getting Cain/Yelich, but their big move hasn't happened yet. They left themselves room to make an addition at midseason and I think that's what they'll do.
Brian Posick: Adding Lorenzo Cain and Christian Yelich should give Milwaukee one of the most potent offenses in baseball. However, I believe the move that'll have the biggest impact has not yet been made. If the Brewers are in the thick of the pennant race in July, as I believe they will be, I expect GM David Stearns to make a trade for a front-line starter.
Mike Pilch: Any move to improve their pitching. Chacin was a very good under the radar pickup, and if you are in the race and get Jimmy Nelson back, that is like trading for a good arm. They have to find a consistently good right-handed reliever as a setup guy though (Barnes?). The pen is kind of two men-deep right now.
Jimmie Kaska: The one they make when they have to make space for Jimmy Nelson, Boone Logan, and Stephen Vogt. Will opposing teams leverage the Brewers into a below-market deal because Milwaukee doesn't have enough spots for everyone? Can Milwaukee get solid returns on their plethora of first basemen? I don't mind the offseason signing but there's clearly work to do.
Brad Berg: The appearance (and disappearance) of Yo Gallardo. There was some hope that he could fill that 5th spot in the rotation which may have led to some hesitation on free agent front.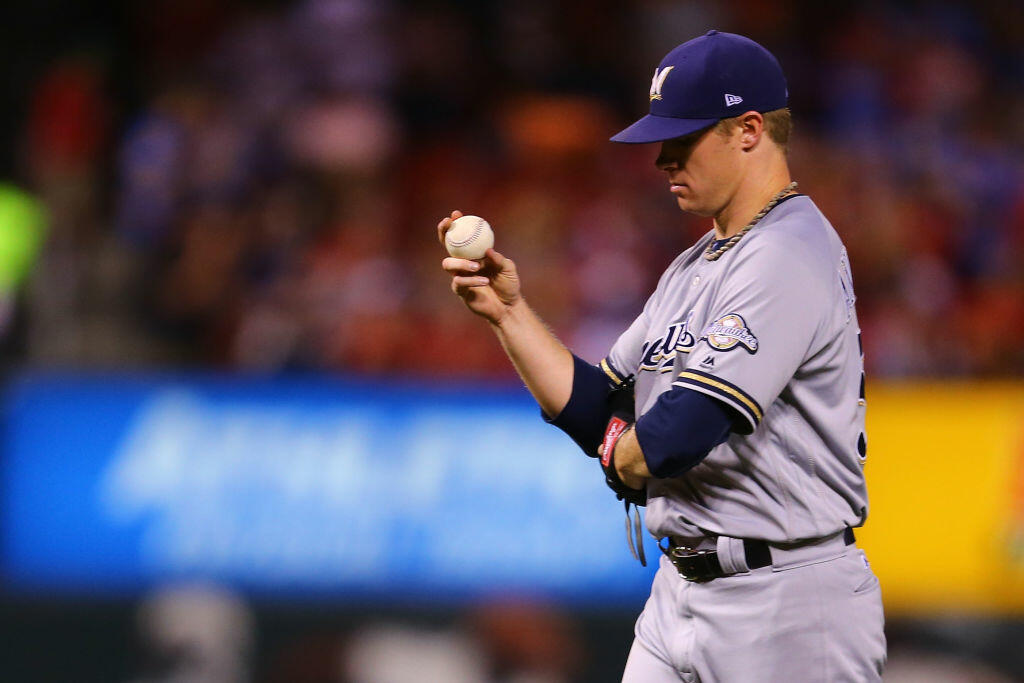 Photo: Getty Images
4. How do you feel about the Milwaukee Brewers' pitching going into the season?
Brian Posick: I don't think they have the starting pitching necessary to win the NL Central. If the Brewers are in the thick of the pennant race in July, as I believe they will be, I expect GM David Stearns to make a trade for a front-line starter. (As mentioned above).
Mike Pilch: That is their question mark. I think their rotation COULD be pretty solid. They just have lots of number 3 or 4 type starters. Need depth and deeper pen.
Armen Saryan: Sort of tenuous. We don't know what we will get from the rotation if it holds up. They were better than we thought last year, can that happen again? How will Nelson look when he returns? The back end of the bullpen should be good.
Pete Knutson: This is going to be their issue. Look for a lot of leads given away late in games due to a lack of bullpen depth.
Drew Olson: It's not as good as many would like it, but it's not dire, either. People forget that Jimmy Nelson should be back by late May, and he's pretty solid. Plus, they'll make a deal at the break.
Jimmie Kaska: It's like my report card from my second junior year in college: incomplete. As long as they're not cobbling together bullpen days while they're in the playoff hunt in August and September again, they should be fine.
Brad Berg: I think they'll be OK. I'll just be happy when each of them pitches more than five innings in a game.
Mike Sullivan: It could be better, but I am high on some of their young arms (and so is Counsell… or at least he 'talks the talk.')
Jon Arias: Seems better than last season. Jhoulys Chacin could be sneaky good. Jimmy Nelson will give them a boost.
Spenser Williams: Bullpen is always my fear. I think the starters are good [enough] to compete with most teams, and Nelson will help a lot when he makes it back.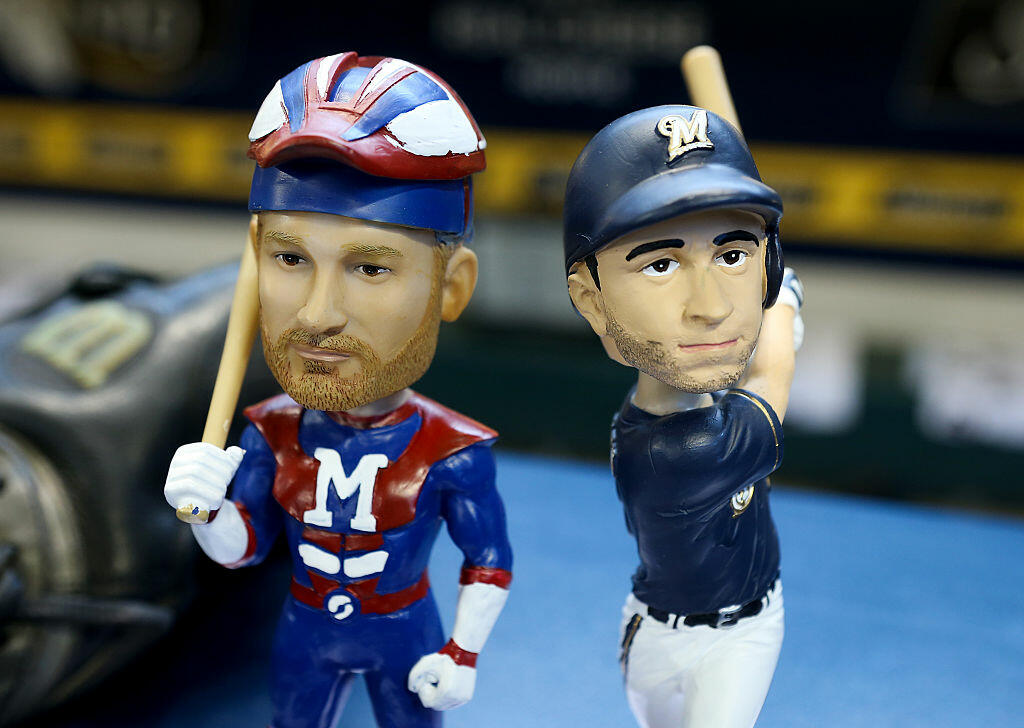 Photo: Getty Images
5. What is your favorite promotion being put on by the Milwaukee Brewers this season?
(you can see the full promotion list by going here)
Brad Berg: Dollar Dog Days - with a new sheriff in town supplying the hot dogs, too much of a good thing isn't bad. And, just the sheer number of promotions. Kudos to the creative marketing team with the Brewers as they continue to find ways to keep putting butts in the seats in Miller Park.
Pete Knutson: I think the Robin Yount retro jersey giveaway night would be the coolest for me.
Brian Posick: Marvel Comics theme night. How can you not like Spiderman, the Hulk, Dr. Strange, and the Black Widow?
Jon Arias: No doubt it's the Ryan Braun Starting Lineup Giveaway. Bobbleheads are so 10 years ago.
Spenser Williams: Give me any of the bobbleheads. Also, the replica bullpen cart is cool.
Jimmie Kaska: The bullpen car looks like a great toy. Uh, for my son. Of course.
Armen Saryan: Definitely has to be Sandlot day. Awesome.
Drew Olson: The Sandlot night is going to be huge, based on the success of the video.