This week, the hosts of Big Sports Saturday, Joel Finkelman and Jimmie Kaska count down the five most irreplaceable sports figures as of May 2017. On Saturday, May 13, the most irreplaceable Wisconsin sports figure (according to Big Sports Saturday) will be revealed. The order of the ranking is almost irrelevant: if any of these five Wisconsin sports figures left their current positions, there would be a huge void to fill. There's also no criteria for this list other than: if the team removed this person, how big of an impact would it be?
#2: Aaron Rodgers, Green Bay Packers quarterback and the bane of Shooter McGavin on Twitter
Jimmie Kaska: You need quarterbacks to win in the NFL. Aaron Rodgers may be the best in the league. It's amazing that he's even under-appreciated because some people don't like that he dates models or actresses (!) or that he's Not Brett Favre. If Aaron Rodgers was dismissed at THIS stage of his career though, you could wonder what the strategy is for the Packers given that they've literally built the franchise around him.
Joel Finkelman: Swap out the world class QB for an average starter and the Packers would be exposed for having a ridiculous poor supporting cast. If I woke up tomorrow and Rodgers wasn't on the Packers I would walk to 1265 Lombardi and start a riot by myself.
Jimmie: A bearded man shouting at Lambeau Field happens every day, Joel. Back to my point: that entire team is built around his talents. It was super clear this offseason that they had needs to address. Well, the Packers did everything to address those needs without completely gutting their cap space or mortgaging their future (with the exception of T.J. Lang taking his talents to Detroit). Brett Hundley is a hot name on the trade market, but he's not on Rodgers' level (as far as we know). Any other quarterback doesn't do the things Aaron does.
Joel: You are right that the team is built around his talents, but the team also has a lot of deficiencies covered up by Rodgers brilliance. Let me put it this way. If Aaron Rodgers was on the Steelers AND the Packers in some sort of fake Madden season, the Steelers would be a better team than the Packers. Not only do they have the offensive firepower to make things easy for Rodgers, but they have a defense that doesn't suck. Yes... that means I think the Packers current defense sucks. It isn't bad... it sucks. And with a defense that sucks, and has sucked for the last handful of years, Rodgers has led Green Bay to two NFC Championship games in the last three seasons. So here's a question I'll posit to you. What would happen if the Packers had the 12th ranked defense. Every year it ranks somewhere around the 20th or worse territory. My personal feelings are that the Packers would have a bye in the playoffs nearly every year and would actually be competing for a Superbowl instead of desperately trying to hold on/getting boat raced in the NFC title game. Am I crazy?
Jimmie: If it wasn't for that darned salary cap... the plus side of the frugality of Ted Thompson is that Green Bay has never been in any real cap trouble. The minus side is that guys will walk if they aren't considered a priority. Nick Perry over T.J. Lang this past offseason shows that the team values certain positions. Would the Packers be worse off with no Perry but having retained Lang? Would a replacement-level (or rookie) pass rusher lessen the team's chances at success over Green Bay picking up Jahri Evans off the free-agent scrap heap just before the NFL Draft? Overall, this offseason proved that Ted was serious about overhauling this defense, in my opinion: four straight picks to open their draft, all of them in the position group leaders in terms of speed, and all of them with reputations for versatility. Green Bay may not be better than 20th, but they just added four contributors, who bring good athleticism to that side of the ball, and given what was in front of them, they probably did all they could to nudge that ranking up a few spots this year. Although, Atlanta's offense in week two is still going to be a few steps ahead of Green Bay's defense--and probably everyone else's, too. And, yes, anyone who grows a beard that big is probably hoarding woodland critters in it, so you're probably totally crazy.
Joel: Aaron Rodgers 2017 Cap hit: $20.3 million, Big Ben? 18.2. Sooooooo about that 'darned salary cap'. The plus side of the 'frugality' of Ted Thompson is that the Green Bay Packers have pocketed a few extra million for themselves at the end of each season while the product on the field was maximized for chances to WIN a Super Bowl (something that's much more profitable than the extra couple of million they could spend). If you can't tell I'm being very, very sarcastic about that being a good thing. As for Perry, to be honest they don't have a consistent pass rush even with him. They got sacks last year individually, but they never bring consistent pressure to get an opposing QB off the spot.
Wait a minute... this season's draft proved that Ted Thompson was serious about fixing the draft? The 2011 Packers had one of the worst defenses in the history of football and they spent the first five ROUNDS addressing that. They have spent a first round pick on defense over the last six consecutive YEARS. Ted Thompson has been serious about fixing it through the draft while turning a blind eye to the one thing that has been a constant throughout 6 seasons of craptastic defenses... hmm, wonder what that could be.
Anyways we have to get back on track. Aaron Rodgers is awesome. I just pray that he doesn't end his career with one opportunity to win a Super Bowl. It would truly be a waste.
Jimmie: I think Aaron Rodgers could be paid $50 million and you could still argue he's underpaid somehow. I also think that if you can't mention the constant in the Packers' defensive struggles, we can just open up one of many Finkelcast blog pages on the subject.
I'm really good and get in plenty of trouble for playing devil's advocate. I actually think that the Packers have set up their dominos in a row here, and if nobody bumps the table, things actually go pretty well for them. It takes a near-perfect game for them to be successful. Look at the playoffs last year as a clear example. Against Dallas, it took an out-of-character Aaron Rodgers interception to even give Dallas a chance. The same dude for Dallas (random backup safety guy) nearly picked off Rodgers again too.
Against Atlanta, Aaron Ripkowski's fumble destroyed any chance early on that the Packers would be able to hang in what would've been a shootout. Green Bay tries to out-scheme their opponents. I actually think the coaching plan is solid. And, this offseason, Green Bay clearly addressed needs rather than "best player available" (although you could have argued they did both perhaps). Sure, they've thrown stuff against the wall defensively to see what sticks, but somehow their urgency this offseason feels different. Maybe it's because Ted is on his way to retirement soon, but it wasn't the usual Packers offseason.
On the subject: it also takes a perfect Aaron Rodgers to compete with the top-tier teams in the NFL. Or sometimes an even better-than-perfect Rodgers. Having an advantage in the Hail Mary page of the playbook is like being able to drain three-quarters-court shots with ease in basketball. I think we're taking two paths to the same idea here though: Aaron Rodgers erases a bunch of mistakes the Packers may make, including his own. In a world without Aaron Rodgers, the Packers are chasing the Vikings or Lions and hoping at best for wild card contention in early December.
Joel: So let's get back to a question I raised earlier for I fear we have devolved into a 'Packers Talk Radio' segment. Fans clamor about 'wasting Rodgers prime' and most of the state media seems to be on a crusade that they are stupid. I could go into a long rant about why I don't think that's the right approach to take on the subject but I'll simply say this. Rodgers is entering the twilight of his 'prime' just going off years. Yes I am aware of what Brady is doing at his age but he's Tom Freaking Brady, he's the outlier not the rule. The reason Packers fans (myself included) sometimes feel that way is because they have to watch their other-worldly QB go down in flames year over year since 2010 due to a defense that manufactures new ways to lose on a weekly basis.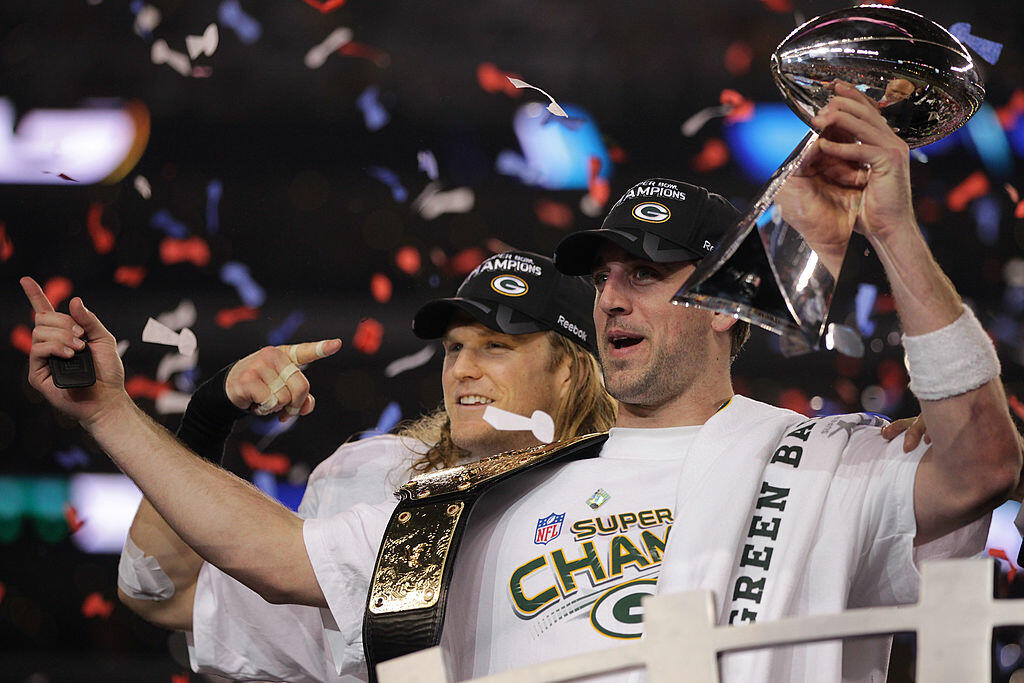 So here is my two part question for you. If Rodgers ends up with one Super Bowl win in his career, will you consider that disapointing, and more importantly, will we look back on it like Ron Wolf looked at the Favre years. AKA 'I should have given him more weapons'. Although in this case it would have been, maybe I shouldn't have stuck with a defensive coordinator who was given a massive stockpile of defensive draft picks and underperformed year over year.
Jimmie: Brett Favre ended up with just one Super Bowl title himself. It only takes one to put you on that mantle of top quarterbacks in history. Think of how differently John Elway was perceived when he got his ring(s). Cite the example of Dan Marino, a passer 15 years ahead of his time, who went to one Super Bowl and never went back, now considered a "great stats guy" but not an all-time great in the vein of quaterbacks who DID win a title, which is insane. I think Packers fans would be disappointed, but Packers fans are mad even when the team is doing well. During their Super Bowl season, fans were calling for the heads of Ted Thompson and Mike McCarthy. Nobody thought they'd win a Super Bowl that year, until they actually went and did it. Green Bay's most vocal fans will ALWAYS demand perfection, which to their credit, it's not bad to have dreams. If Green Bay is going to win another title with Rodgers, it's going to be the perfect storm of staying healthy and Aaron Rodgers brilliance. Rodgers himself was banged up most of last year.
There's no magic formula this side of Foxboro that is going to put the Packers in the Super Bowl every year. That's why the Seattle loss stings so bad, from a few years back. They had it right in their hands, and then they didn't. Of all the seasons since 2010, that is by far the biggest missed opportunity. This year, it may have been a more competitive game if they didn't fumble early on against Atlanta, but that game was literally Aaron Rodgers and all-receiver sets (Ty Montgomery is a converted wideout) going to war with no running backs and a leaky, creaky secondary facing one of the best passing offenses in recent memory. I think they are short one championship from the Rodgers era personally—one more would make it right. I think the only regret the Packers (and Thompson) will have in this whole deal is stretching themselves thin by placing too much hope in unproven players, or players with a risk of underperforming, without much of a safety net. The gambles that paid off before, like undrafted players becoming number one corners (Sam Shields), aren't coming through to the same degree now. The short answer to your question: I think the Packers need one more title with Aaron Rodgers to meet expectations. At least get back the one they possibly lost on that Seattle game.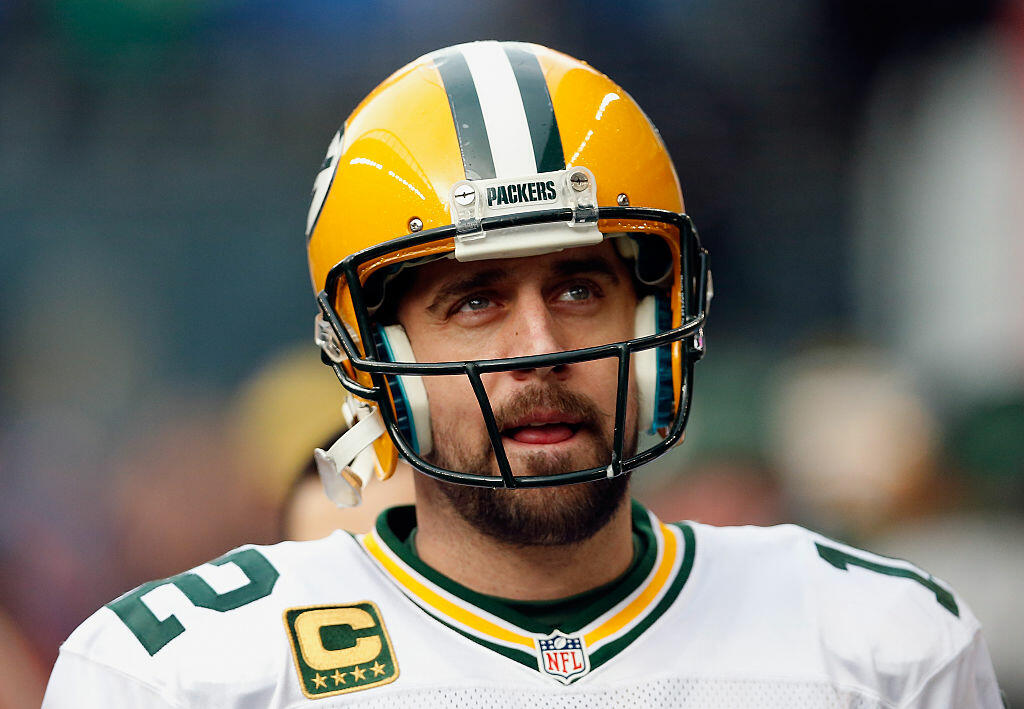 Joel: Right off the bat that is true about Favre... but what's also true is that Rodgers possesses way more talent than Favre ever did. The reason Packers fans get 'mad' all the time is because they know that. They also know there's a chance they will never cheer for a QB with as much of a chance for multiple rings for the rest of their lives.
Also did you have to bring up the Seattle game? The amazing thing about that game is that Rodgers evades blame like it's a linebacker coming from his blind side. However, he gets away with that for good reason. He could barely move and because of the defense and special teams, he ranks something like reason #238 as to why they lost. At the end of the day I just can't shake the feeling that if he ends his career with one title, us Packer fans will be grateful for 2010 but disheartened we couldn't get more.
Real quick let me chance the subject a little. What do you think is Aaron Rodgers most impressive non-hail-mary throw? Personally his throw over the middle to Greg Jennings in the Super Bowl that grazed the defenders finger tips for a huge first down is his finest. With that said, the best hail mary throw category easily goes to the touchdown to Jeff Janis against the Cardinals. Dude was rolling to his left with three defenders on him immediately and hucked it like 65 yards down the field. The Lions one was amazing but he rolled to the right. Coming in third place is the Giants one because technically it was like a 45 yard throw, aka warm up for Rodgers.
Jimmie: I think we agree he needs one more to feel at least OK about his Packers career. Two more would be insane. But let's get to one more first. I think that any time Aaron Rodgers tosses one 65 yards on a rope while scrambling any which way is sort of insane personally. I mean. You can practice the hell out of that and in a game situation, in the most clutch moments, most people can't do it. It's an easy highlight to his so-far spectacular career, but think about it: most quarterbacks have to step into and contort to throw a ball 65 yards near its intended target. Who else could do it? You know, other than this kid:
I think the non-game-winning bombs Aaron throws that are the most impressive are the out routes. The ones that like 15 guys on the planet can hit with any consistency. For more than half the starting quarterbacks in the league, you're screaming NO NO NO! at the TV because it's about a 75% chance it's a pick-six. For Rodgers it's routine.
Joel: Good lord he is good. The kid in the nerf commercial I mean. But seriously so is Rodgers, the 30th most crazy thing about him is that he is makes the impossible look easy. Meanwhile when I'm watching Redzone and I get the honor watching one of the 13 McCown brothers throw a duck over the middle that gets picked by two line backers at the same time (thats how bad he is), it makes me really grateful for what I get to watch. Which brings me to my next question for you.
If you had to take Rodgers or Favre for one must-win game who would it be? I get Favre has the clutch thing but Rodgers doesn't need that as much because his teams are usually just ahead due to the lack of 3 INT's every game. Thoughts?
Jimmie: I see what you're leading me into here… Aaron Rodgers. Brett Favre can get you into and out of a bunch of trouble. Sometimes that trouble happens at the end of games. Aaron Rodgers will manage the game nearly flawlessly and can bail you out with insane miracle throws at the end of the half. All these stats about wins and losses in the clutch, I think, are a disservice to Rodgers because sometimes he doesn't even get a chance to work his magic. The dude was scrambling in his own end zone on 4thand whatever and managed to get a first down, then launch one into the endzone a couple plays later. It's probably blasphemous at this stage to pick Rodgers over Favre, but it really depends on the conditions. If it's football in the mid- to late-90's, you take Favre because he can take a helmet-to-helmet shot from a safety or linebacker, and the rules on defensive backs didn't exist as they do now so you really had to gun it in there. If it's football post-Peyton Manning destroying secondary units, Aaron Rodgers, and it's not much of a debate in my mind. Rodgers would hold up for that one game though, so I think in any case you roll with Aaron. Or risk this:
My final question on the topic to you is this: What realistically would the Packers look like if Aaron Rodgers was injured, traded, or otherwise removed? Whether it's Brett Hundley or someone else, what would the offense look like?
Joel: I'll always remember watching that Favre interception against the Saints. The feelings I had while watching Vikings fans deal with what we went through was simply too good. On the other point, if Rodgers didn't play this season and it was Brett Hundley at the helm this team is 6-10. Maybe 7-9 if they were lucky or 5-11 if things broke wrong. What I'm trying to say is this team doesn't make the playoffs and is pushing for a potential top 10 draft pick without Aaron Rodgers. Even with McCarthy and everyone else it wouldn't matter.
He is that good.
Jimmie: I know it's a team game, but Aaron Rodgers is the difference between contending for a Super Bowl and contending for a top-five pick in the NFL Draft. That's why he's #2 on our list.
So, who could be rated even higher than that? We reveal our #1 during today's BIG Sports Saturday!
This is part four of a five-part series. Coming Saturday afternoon: part five! On Saturday, Joel and Jimmie reveal their most irreplaceable Wisconsin sports figure as of 2017.
All Photos: Getty Images