This week, the hosts of Big Sports Saturday, Joel Finkelman and Jimmie Kaska count down the five most irreplaceable sports figures as of May 2017. On Saturday, May 13, the most irreplaceable Wisconsin sports figure (according to Big Sports Saturday) will be revealed. The order of the ranking is almost irrelevant: if any of these five Wisconsin sports figures left their current positions, there would be a huge void to fill. There's also no criteria for this list other than: if the team removed this person, how big of an impact would it be?
We've made it to number one! Here's our discussion on the entire list and how we arrived at Bob Uecker at number one overall:
#1: Bob Uecker, Milwaukee Brewers play-by-play announcer, slinger of sausages, and a one-of-a-kind entertainer who happens to occupy the broadcast booth
Joel Finkelman: Need I say more?
Jimmie Kaska: Well, you should, considering we want to have an actual discussion on this, but I get your point.
Joel: Announcer trades have happened in the history of baseball so don't laugh. Uecker is much closer to retirement than people assume and although his play-by-play isn't 100% of what it used to be, it will still be an incredibly sad day when I have to tune in and not hear his voice telling me about some fishing tournament.
Jimmie: Can you believe there are people that have only recently discovered Bob Uecker and wonder why he doesn't simply describe the action on the field, and somehow find it dissatisfying? Those people are idiots. I suffered through some of the worst years of the franchise in the 90's and early aughts, before the Fielder-Braun-Hart-Weeks-Hardy group came up and the team sent its farm system out for pitching to help get them over the playoff hump. The Brewers shot their shot and they ended up with a couple of pennants for the outfield wall. Uecker's ability to tell stories was the ONLY reason that you'd listen to a Brewers broadcast, for many years. If you want balls and strikes, go watch a statcast.
Joel: Those people are stupid. Here is a simple truth, Uecker is late career Greg Maddux at this point in his career. Maddux came into the league throwing 95 and Uecker in announcing terms was probably throwing 103 year over year for most of his career. Now though he does less games and fans are sometimes right about him not updating the score as much as he probably should. Now though Ueck is still throwing a 93mph heater and still racking up the wins. When it comes to stories though? He's still throwing a disgusting slider on a daily basis. Or maybe it's a Derrick Turnbow 'slurve', I don't really know. There aren't too many of the old school baseball announcers left and Brewers fans who don't like him should simply shut up.
If they can't find a way to love what he brings to the franchise, then they can go jump on the Cubs bandwagon. Choo chooooo boys!
So here's my question to you. When some of the other big name announces have retired recently the national sports spotlight has been all over them. See Scully, Vin. Seriously when Vin Scully retired they gave him a Kareem/Kobe year long send off. I'm well aware that Scully was amazing, but did he really deserve the wall to wall coverage he got for four months? Simply put, do you think Uecker will get that treatment if he decides to announce a retirement mid or preseason at some point? I worry that he will be only a footnote because it's Milwaukee. I'm sure that I am biased here, but I think he deserves a huge national spot light when he decides he wants to call it a career.
Jimmie: Remember Harry Kalas? Voice of NFL Films. Voice of the Philadelphia Phillies. Other than a jersey patch, not many remember him already. Harry actually died getting ready for a Phillies-Nationals game in 2009--an hour before the game. I don't think that's how Bob goes--Ueck's been cutting back on road games and we're getting a ton of the Levering and Grindle show. But, there's no chance he's getting the retirement world tour either. Vin Scully was an iconic broadcaster in America's second-largest market. Uecker is known for several things, whether it's his role on Mr. Belvedere, Harry Doyle in Major League, or here in Wisconsin as the voice of summer. He's Mr. Baseball.
I'm biased in this, but I agree that he should be given plenty of national love. I doubt he's going to seek any of that anyways. If he did announce a retirement, he'd showcase his trademark humor in a bunch of other markets to people that might be discovering him for the first time. Especially if those people live under rocks. Maybe that's how it ends up.
Joel: Dude are you kidding me? ESPN had a whole Harry Kalas week. Haha Harry Kalas coverage is actually what sparked my original Bob Uecker thoughts on this subject years ago.
Hey you brought up his side work so I'm going to ask you the question we all want to know. What's the best Harry Doyle line in Major League 1 or 2 (the series stopped there are far as I'm concerned). My personal choice is an underrated "You can close the book on Kellner... Thank God." What about you? If you say 'Just a bit outside' I will ban you from further entries in this blog.
Jimmie: I've borrowed this one myself from time to time:
I think he'll get his own feature for a bit, but it might be more for his work in Major League or something else besides Brewers games. Back to the topic at hand: do you know how many summers he's saved of Brewers baseball broadcasts? It's incredible. You can turn on a Brewers game, and the score doesn't matter if Ueck is on the call. In my early radio days, I sat through some miserable Brewers baseball on the field, but the Bob Uecker innings made it tolerable. I don't think enough can be said about what he means to this state, whether it's working in the yard, driving to whatever part of the northwoods you call your home away from home (or in my case, home), or however you take in a game. Once Uecker is gone, the Brewers' broadcasts go back to being radio noise, at least until they're good.
Joel: God it's so true. The Brewers may have been utter garbage for most of my life but hearing him speak made it all such a non worry. I bought a house a year ago and obviously had a ton of yard work to do. What was the first thing I did then? I bought a radio so I could hear Uecker. I'm not the only one with a story like that and for a long time after he's done announcing Wisconsinites will be telling their kids about how much fun they had listening to the guy who used to catch Niekro by letting the ball stop at the backstop.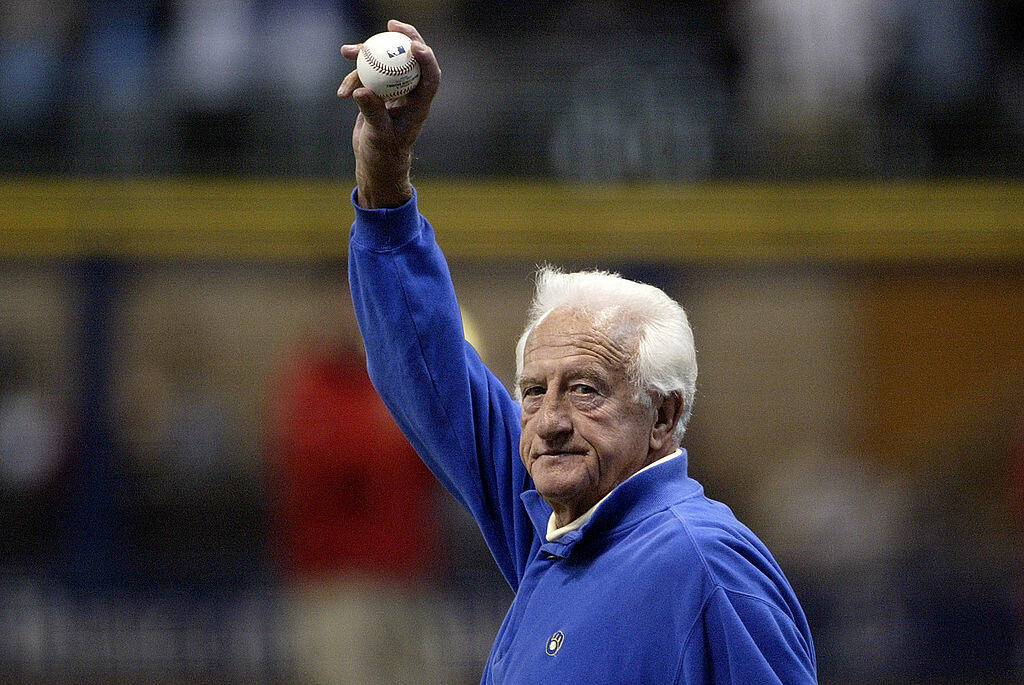 Earlier in the week I mentioned how play-by-play guys tend to have a bit of an ego. Working in radio we are privy to a few back channels and rumor mills, but I have yet to hear anything about Uecker that wasn't 100% positive. Every broadcaster who used to work with him and moved on to other jobs cannot stop heaping praise on the guy. I believe a year or two ago the Brewers were playing the Twins in Minnesota and there was a rather large rain delay. The Brewers network cuts out during these times and returns to station broadcasts but in Minnesota? Why on earth would you do that when you could fill time for hours on end without commercial breaks. What made this game stand out to me (besides having to work much later than expected) was that Uecker jumped in the Minnesota booth to help Cory Provus fill the time.
Uecker had no need to do that. He's been in the business forever and nobody would bat an eye if he didn't want to do a bunch of extra unpaid work. However, that's not the kind of man he is. As I already mentioned, nobody ever says a single bad thing about him, and we could use a few more people like that in this world.
Jimmie: When I was in charge of things in radio (I've been demoted in my old age), I carried the Twins in my old market. The rain delays drove me crazy because they would hang out at Target Field and interview whoever was there to fill time, or rack up interviews they did in March with promotions or ticketing or former players. The Uecker one was one of the only times I didn't flip the switch back to network radio. There's a million examples of how he's gone out of his way to be available to talk baseball with pretty much anyone. I've said hello in the Miller Park press box plenty of times to Bob, who is a presence wherever he goes. What's going to be great for remembering Bob Uecker whenever he hangs it up is that you know anyone in the state of Wisconsin will have a favorite Bob Uecker story. He's the gold standard, really. Some play-by-play guys are memorable for their work in big moments, or their technical aptitude, or their outright professionalism in telling the story of a game. Bob Uecker tells stories about the game, during the game, sometimes about games that happened half a century ago. It's like opening a history book any time you tune in, and you know you're going to get something fun just about every time you flip on the radio.
Joel: Speaking of Provus, another underrated aspect to Uecker is the fact that his co-workers generally get some pretty good gigs around the league. Who knew paling around with Bob Uecker would help land a job. Most recently Corey Provus (Twins) and Jim Powell (Braves) come to mind. Just a solid 10% of the league right there, no biggie! It seems like no matter who comes to the booth with Ueck, they all improve their 'bedside manner' of sorts during the call. I feel like Provus was a bit straight and narrow at first but he and Levering both quickly added that fun banter side to their call just by being around Uecker.
Jimmie: How do you forget so quickly the work of Joe Block (Pirates), who is only two years removed from the gig? Or Pat Hughes (Cubs), who also used to call Marquette hoops (to be fair, he's before both of our times for the most part)? That's five of the 30 teams in all of major league baseball that used to work with Uecker… or happen to actually be Bob Uecker. That's an entire division on its own. Block had to work that year that Uecker wasn't able to do many games. Remember Craig Counsell as Brewers broadcast analyst? Yeah, Counsell has literally seen the game from every vantage point now. Including that awesome batting stance.
Back to the point of the article here. Bob Uecker has called more games than you or I will ever remember. But, I do remember some great memories in high school, during the summer, riding my bike around the northwoods listening to a Brewers game on my portable AM/FM radio (a luxury at the time in the trailer park). I once rode 36 miles just to get to the end of some random late July game and ended up in four different counties by the time I was done with my journey. Nothing beats the heat and humidity of a mid-summer night quite like Bob Uecker on the call on a decades-old AM radio.
Joel: I remember being in the summer between high school and college and driving around listening to the Brewers late playoff push of 2008. Every game, every pitch, every out felt like such an important life accomplishment as the year got later an later. His call of Ryan Braun's walk off grand slam against the Pirates in the last week of the 2008 season was incredible (as was Brian Anderson's by the way). I remember his call of Nyjer Morgan's walk off single in the NLDS in 2011 and how Uecker held what felt like a two hour postgame show after the Brewers clinched the wildcard in 2008. He could have handed it over to his partner and gone and celebrated with the team, but he felt it was his duty to describe everything for as long as he could to fans.
My favorite thing about Uecker though, at least the thing that always makes me chuckle the most is actually technically a mistake he makes every once in a while. These moments happen on fly balls to the wall and many of you reading this who listen to Uecker know exactly what's coming next.
"Get up... GET UP! GET OUT OF HEREEEEEEEEE, warning track and caught!"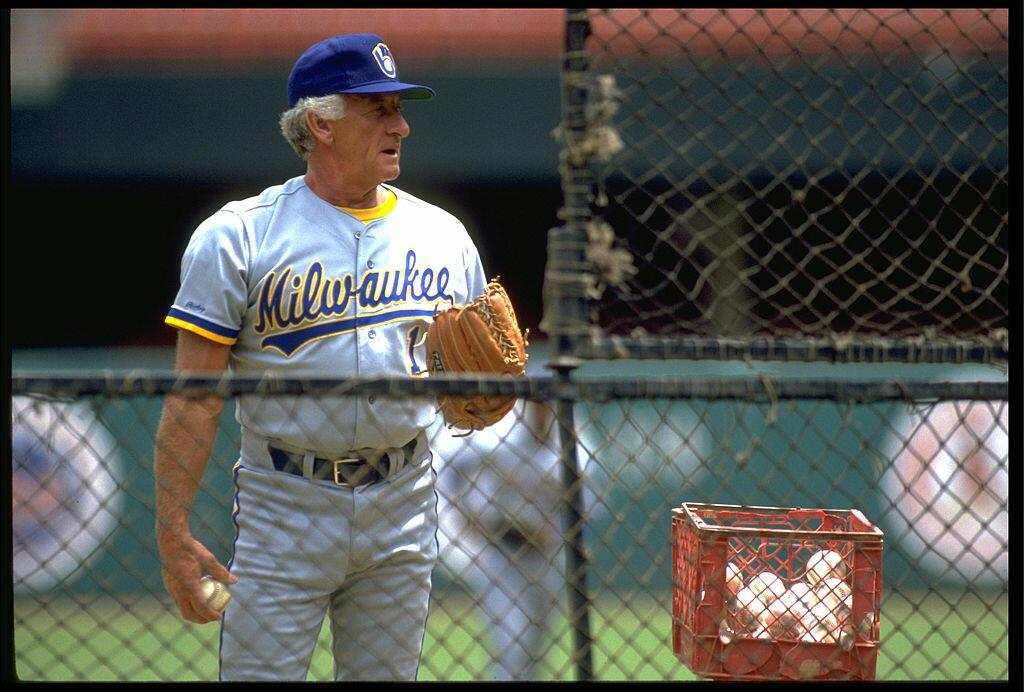 Now I'm not railing, complaining, or trolling Uecker here in any way. It can be tough to read the ball of the bat on close ones perfectly every time and every announcer will make that same mistake from time to time. What makes me chuckle is that the emotion of getting so excited and coming down kind of sums up the entire Uecker self-deprecating thing. Maybe I'm giving him too much credit but sometimes I almost think he does it on purpose just to remind everyone that even he isn't perfect.
Someday I'm going to be telling my grand-kids about that call. Getting all excited, standing up, waving my hands at GET OUT OF HERE! and then falling into my chair, shrugging my shoulders, and simply uttering "warning track". I love that so much.
Jimmie: It's incredible that those calls, frustrating to some, are actually some of my favorite too. Like a "gotcha!" moment when you're expecting someone to go yard. My other favorite is when someone hits one of those bloop singles to the shallow outfield and he's imploring "get down, ball!" as runners tag up and dash for home. Of course, there's also "heeeeeeaaaaaaaayyyyyyyy struck him out!" which is on par with an over-zealous umpire demonstrating how to draw a bowstring. Last thought here: if Milwaukee makes it to a World Series after Uecker finally hangs it up, should they let him come back to call part of the series?
Also, this is how I wake up in the morning:
Joel: The answer to your question is simply yes. He has been here forever and has been an ambassador to the organization. He should be allowed to do literally anything he he wants at this point in regards to broadcasts. Period. Nothing else to add. Yes. 1000 times yes.
Jimmie: I know that there will be some "but the guy who did it all season should get to call it" people out there, but the man has put in his time. Thousands of meaningless games in no-chance years for the Brewers should give him at least a game in a Brewers World Series (if only). I remember the broadcasts taking on a different tone in the NLCS against St. Louis. Very much focused on the game at hand.
Well, that's it. Number one is Bob Uecker. Whoever steps in after Bob is going to have Wisconsin-sized shoes to fill. There will never be another Bob Uecker.
All Photos: Getty Images
Here's the rest of our top five: