D.J. Wilson, Milwaukee's first-round pick this year, will wear #5. Who are the best Bucks to ever wear the number 5? Some facts about the #5:
-The last Milwaukee Buck to wear #5 was a recent one: Michael Carter-Williams, who wore it until his trade to Chicago
-24 Milwaukee Bucks have worn the #5, tied for the most of any jersey number in Bucks history (#12 is the other, currently worn by Jabari Parker). When D.J. Wilson suits up for his first game, the #5 will have been worn more than any other number in Bucks history.
-The #5 has been absent from a Bucks roster a few times: 1972 to 1976, 1988-1993, and 2008-2009.
All information compiled from Basketball Reference.
Here are the top wearers of the #5 jersey for the Milwaukee Bucks, prior to D.J. Wilson taking the number for himself for the upcoming season:
Cup of Coffee Division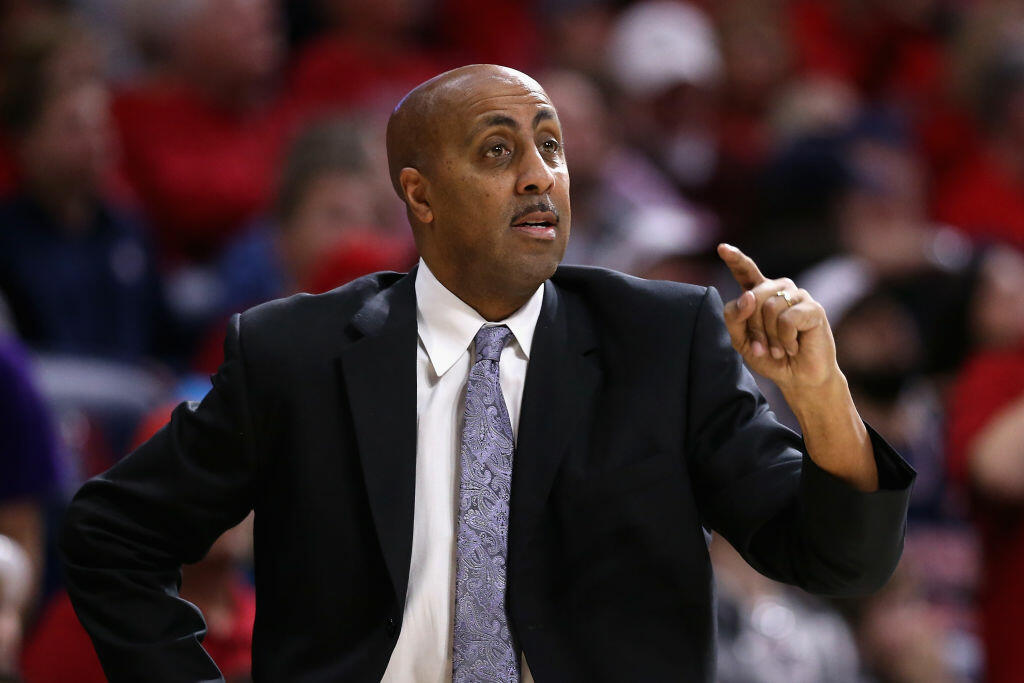 Former Milwaukee Buck Lorenzo Romar, now the associate head coach at the University of Arizona
Marv Winkler (1971) only played three games for the Bucks... Fred "Mad Dog" Carter (1977) only played 47 games for the Bucks, with a -0.4 VORP... Rich Laurel (1978) only suited up for 10 games with the Bucks, scoring 24 points. Laurel, a first-round draft pick in 1977 of Portland, never played in the NBA after that... Sam Smith (1979) saw action in 16 games for the Bucks, scoring 3.5 points per game... Mike Evans (1980-82) only played 85 games with Milwaukee, averaging 4.4 points per game. He was bought by the Bucks in 1980 before being released in 1982... Journeyman Robert Smith (1982) played in 17 games for the Bucks before being traded for a sixth-round draft pick a few months after the 1981-82 season... Lorenzo Romar's (1983-85) career was on its way to its end after he joined Milwaukee, playing only 69 games after starting in 64 games the season prior to his acquisition with Golden State. Romar (above) was the longtime coach of the University of Washington before joining Sean Miller's staff at Arizona this offseason... Adaa Abdelnaby (1992) only played 12 games for the Bucks. The former first-round pick of Portland was traded to Boston for Jon Barry and a second-round pick (which became longtime NBA point guard Eric Snow)... Eddie House (2004-2005) spent only three weeks as a Buck, playing in just five games... Anthony Goldwire (2004, 2005) played in 24 games for the Bucks, playing in two stints with the team during the 2004-2005 season... Josh Davis (2005) appeared in only five games with Milwaukee... Jermaine Jackson (2005-06) wrapped up his NBA career in Milwaukee, playing the final 30 games of his 135-game career for the Bucks.
Short-Term Trade Acquisition Division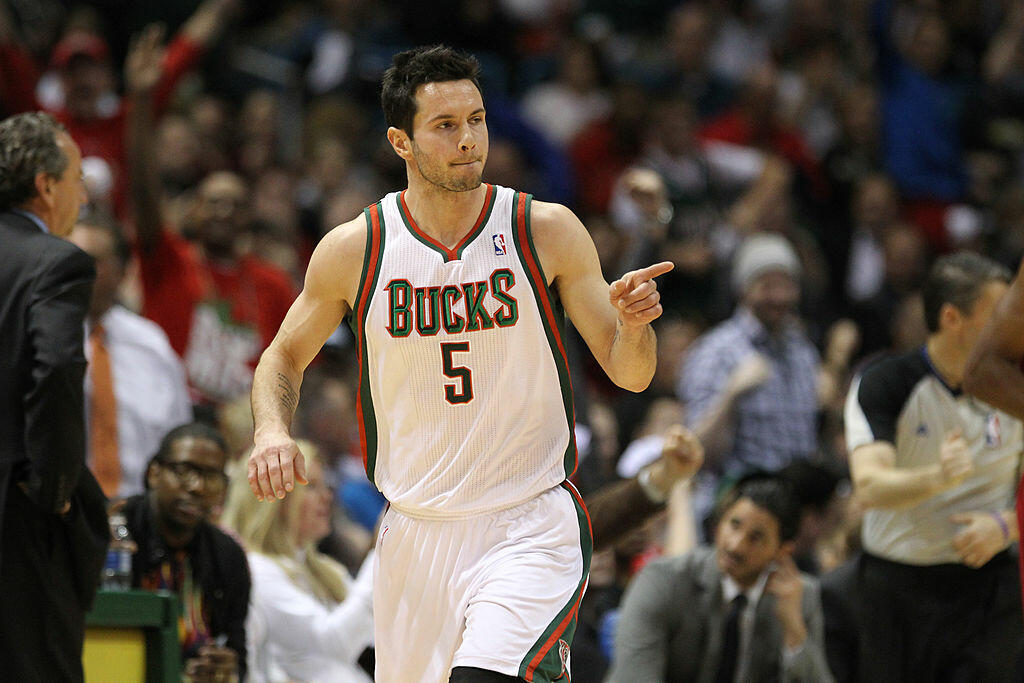 Former Milwaukee Buck J.J. Redick, who appeared in 32 total games (four playoff contests) in his brief stint with the Bucks
NBA veteran Steve Blake (2006-07) appeared in 33 games for the Milwaukee Bucks, scoring just 3.6 points per game, the lowest of any of the eight teams he played with in his career. Blake was acquired in the Jamaal Magliore trade... Stephen Jackson (2011-12) was brought in via the Corey Maggette trade (see below) and played in just 36 games for the Bucks. Milwaukee traded Jackson and Andrew Bogut to Golden State for Monta Ellis, Kwame Brown, and Ekpe Udoh... Milwaukee paid a high price to acquire J.J. Redick (2013), who only played 28 regular-season and four playoff games for the Bucks, as the Bucks sent promising wing Tobias Harris and two others to Orlando for the former lottery pick. Milwaukee packaged Redick (above) in a deal that brought back second-round draft picks... Kendall Marshall (2014-15) had a brief 28-game appearance in his lone season in Milwaukee. The former lottery pick played four four teams in four seasons before washing out of the NBA. He was part of the Michael Carter-Williams deal (below).
One-And-Done Division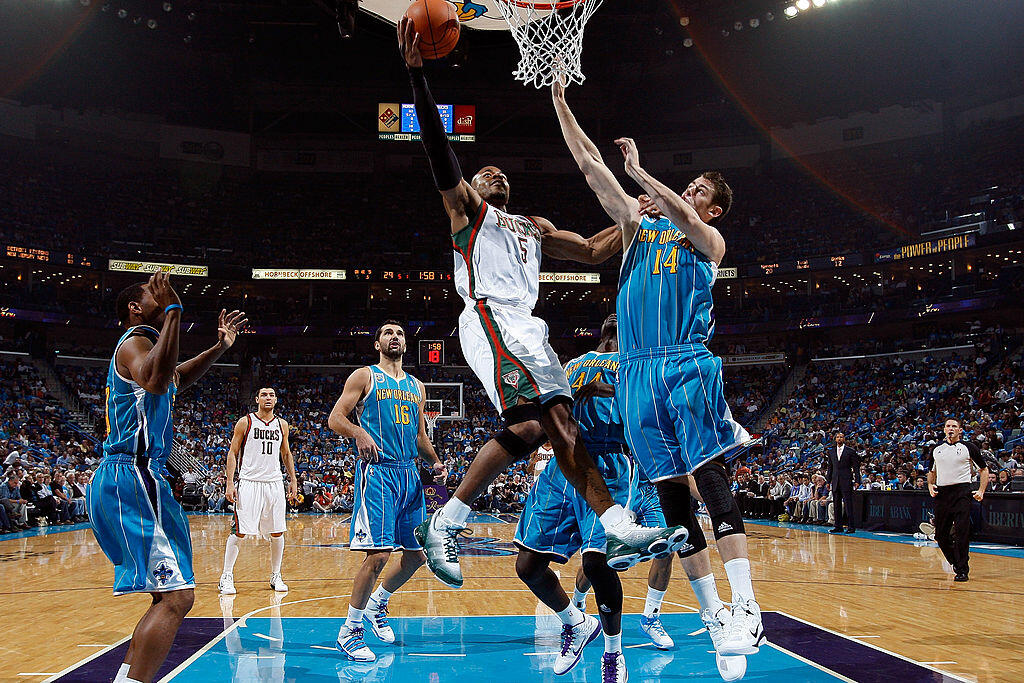 Former Milwaukee Buck Corey Maggette, who only played one year with the Bucks
Scott Skiles (1986-87) was drafted by the Milwaukee Bucks in the first round (22nd overall) in the 1986 NBA Draft. He would last one calendar year in Milwaukee before being traded to the Indiana Pacers for a second-round pick. Skiles would peak in five seasons with the early-1990's Orlando Magic, before retiring in 1996. Skiles coached the Bucks from 2008 until the middle of the 2012-2013 season. He most recently was the head coach of the Orlando Magic. In his lone season with the Bucks, he only averaged 3.8 points per game in 13 contests, with a -0.2 VORP.
Corey Maggette (2010-11) only played a season for the Bucks, averaging 12 points per game in 67 games and 18 starts. The journeyman Maggette (above) was included in two trades with the Bucks, the one that brought him in to Milwaukee and the one that sent him out. He was brought in when the Bucks shipped out Dan Gadzuric and Charlie Bell, and traded away in the deal that brought back Tobias Harris, Stephen Jackson, Shaun Livingston, and Beno Udrih. His career VORP is 9.5, all of the positive value in his career coming with the Clippers, who he played for most of eight seasons. In Milwaukee, it was actually sub-replacement level at -0.2.
Elliot Perry (1996-1999) spent only a little over two seasons (so not quite one-and-done) in Milwaukee, playing in a total of 168 games, and averaging seven points per game in those appearances. Perry's VORP with the Bucks was 0.0, the definition of replacement player. He was part of the three-team trade that brought Sam Cassell to Milwaukee.
The Five Best #5s in Bucks History
5. Ekpe Udoh (2013-14) was the sixth overall selection in the 2010 NBA Draft by Golden State. Udoh played over half of his NBA games for the Bucks (141 of 270) as well as four of his eight career playoff games. His VORP with the Bucks is just 0.6, but did average a little over eight points per game in his time with Milwaukee. He was acquired in the Andrew Bogut-for-Monta Ellis trade. Udoh originally wore #13 before switching to the #5 jersey for the 2013-14 season.
4. Guy Rodgers (1969-1970) was the first Buck to ever don the #5. He played 147 games for the Bucks over his final two NBA seasons, averaging 7.2 points per game.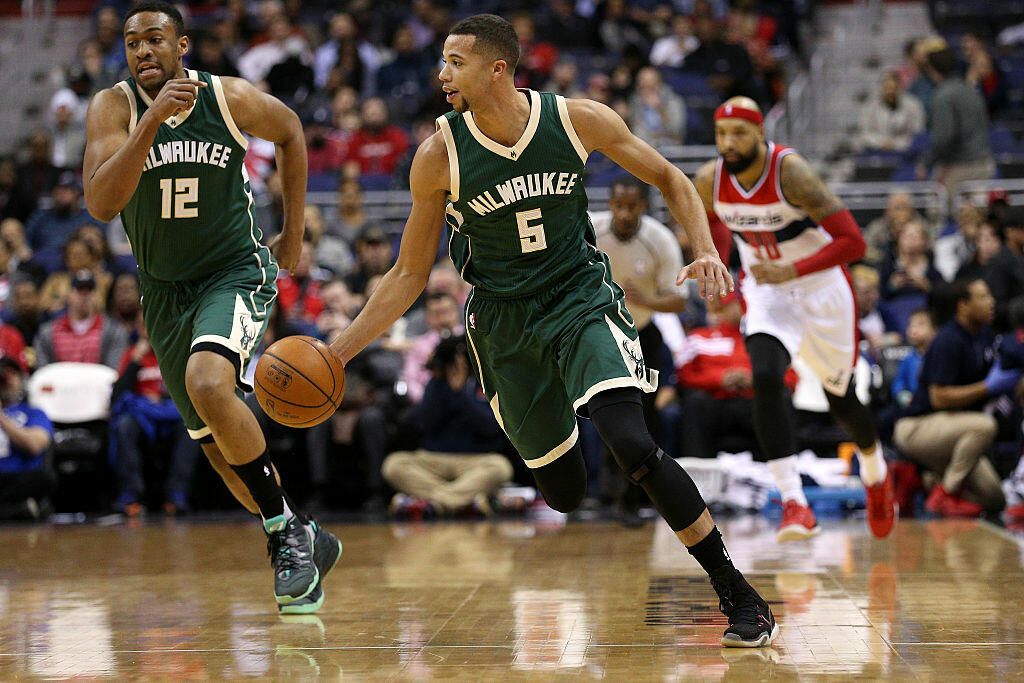 3. Michael Carter-Williams (2015-16) was acquired in the Brandon Knight deal. The former Rookie of the Year appeared in 79 games with the Bucks, averaging 12.4 points per game. His VORP with the Bucks was 1.0. He was traded to Chicago for Tony Snell before the 2016-17 season.
2. Eric Murdock (1993-95) was part of the trade that sent Larry Krystkowiak and Jay Humphries to Utah in exchange for Murdock, Blue Edwards, and a first-round draft pick. He had a career VORP of 7.1 in Milwaukee, averaging 14 points per game for the Bucks in 245 games over three and a half seasons. He would play for five more teams after his stint in Milwaukee, never quite regaining the form or playing time he had with the Bucks. Milwaukee traded him to Vancouver along with Eric Mobley for Benoit Benjamin. Murdock originally wore #3 with the Bucks before switching it after his rookie season.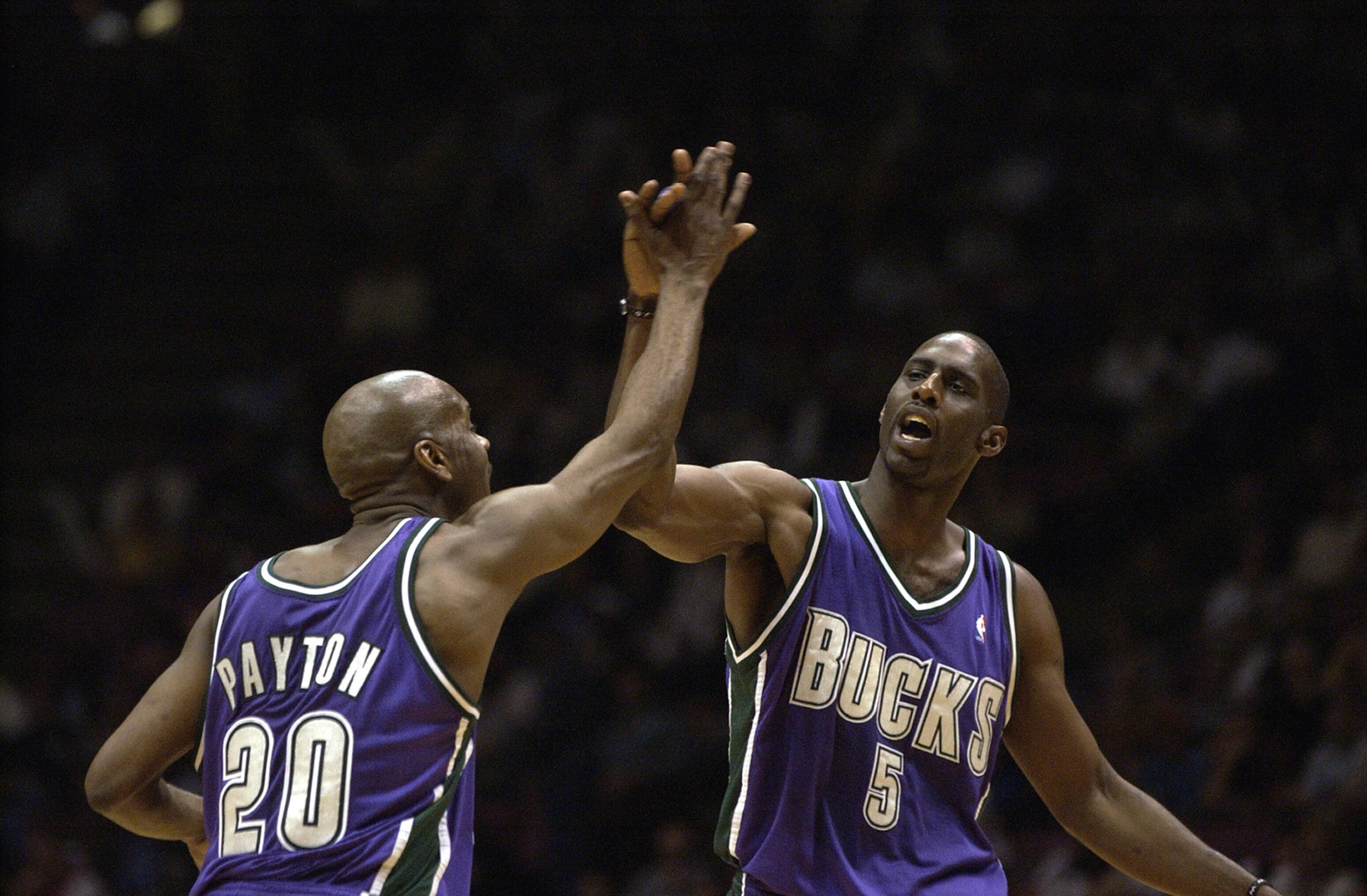 1. Tim Thomas (1999-2004) spent the most time in Bucks history donning the #5. He played his best seasons in Milwaukee, although he's better known for his career post-Milwaukee with stops in New York, Chicago, and Los Angeles, among others. Thomas earned a 3.2 VORP in his time in Milwaukee, and played more than twice as many games for the Bucks as any other team. Thomas averaged 12.2 points per game over his five-plus seasons in Milwaukee.
All Photos: Getty Images